What's new on Toolpedia Wiki
July 2012
Name that tool 1 is up! Think you know what this
tool is or does?
June 2012
We're new! Welcome to Toolpedia. We are a wiki about tools: hand tools, power tools, specialized tools, that anyone, including you, can edit. Click the Edit button at the top of any page to get started! --Badger16 (talk) 01:26, June 17, 2012 (UTC)
Helping out
To write a new article, just enter the article title in the box below.
Not sure where to start?
Adding content
Talk and more...
Check out the community portal to see what the community is working on, to give feedback or just to say hi.
Or head on over to the forums and coordinate with the community on editing, projects, and more.
Featured article
Pump pliers are long-handled pliers whose jaws are set at an angle from the handles. Like all pliers, squeezing the handles squeezes the jaws, but the pivot point for the jaws and handles is adjustable, enabling the pliers to grip widely disparate sized items. They were developed in 1933 by Howard Manning, chief engineer for the Champion DeArment Tool Company ... read more
Featured media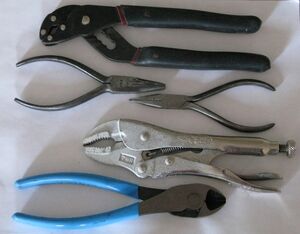 Several types of pliers.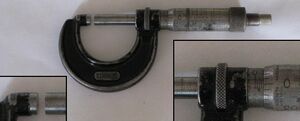 A micrometer measuring 101 thousandths of an inch.
A plierench.
This wiki is neither sponsored nor endorsed by Josiah S. Carberry.